We are delighted to announce that the annual Digital Legacy Conference will take place between 2pm and 6pm on Saturday 14th May in a large London location (Zone 1-2). Last year's conference brought together a range of international thought leaders from across the globe to UCL Partners, London.
The Digital Legacy Conference 2016 will strive to be even better and once again the conference will be free to attend. The Digital Legacy Conference's aim is to help improve the knowledge and raise awareness around a number of new and increasingly important areas.
Some of the areas to be explored include:
The world 'before the birth of Facebook' (before Facebook/ BFB)
Death in today's digital world
Digital legacy
Digital grief
End of life planning
Utilising technology to deal with death
Digital memory loss
Funeral streaming
Laws around digital assets and digital legacy

Preparing for our own digital death

Right to be forgotten
Death and the media
….and many more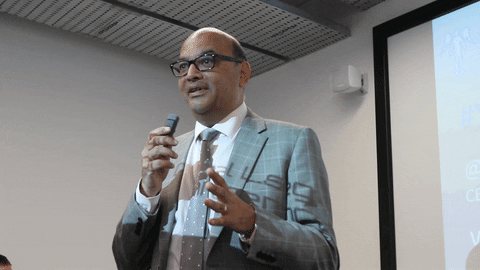 Professor Mayur Lakhani speaking at the Digital Legacy Conference 2015
About the Digital Legacy Conference
The Digital Legacy Conference is an annual event ran by the Digital Legacy Association.
This year's conference will be limited to 100 people (or so) and tickets provided on a first come, first serve basis. The first batch of free tickets will be released soon.
The Digital Legacy Conference will  be one of the many events taking place as part of Dying Matters Awareness Week 2016. This year's Dying Matters Awareness Week theme is the 'The Big Conversation'. The Big Conversation explores the importance of talking about death and our end of life wishes.
The Digital Legacy Association will open the Digital Legacy Conference by exploring 'the big conversation' in the context of the internet and social media.  Data attained from the Digital Death Survey 2015 will also be used to explore this area.
Next steps
If you are interested in speaking or attending the Digital Legacy Conference 2016 join the Facebook event page.
You can join the Facebook event page at https://www.facebook.com/events/1631936163737680/
Submit a paper
We are now accepting papers in areas relating to digital assets, digital legacy and end of life in today's connected world.
We will stop accepting submissions at 12pm on the 14th April 2016. There will be bonus points  for those who submit their papers before the 1st April.
Please email the three requested pieces of information below to: papers@digitallegacyassociation.org
Paper / seminar abstract (no more than 300 words)
Add your name, title and speaker bio (100-150 words)
Provide photo of the speaker
When possible provide examples/proof of previous seminars given
Please refer to last year's speakers page for further reference.
Sponsors & supporters
The Digital Legacy Association is free to attend thanks to the kindness of the sponsors / supporters. If you are interested in becoming the Superhero headline sponsor (£1000), Venue sponsor (provide free venue for 100 people), drinks & pizza sponsor (£300) please get in touch. If you are a media, press, film maker, photographer or an artist wanting to get involved please also get in touch. The best email for sponsors, media and artists to use is: hello@digitallegacyassociation.org
Sheldon K Goodman speaking at the Digital Legacy Conference 2015
Death Art
Last year we had the wonderful RSVP funeral invitation art exhibition hosted and curated by Joanna Shears. This added an extra 'je ne sais quoi' to the day. We will have more details about what is feasible in the space once we confirm the location. If you have any early, creative ideas please do get in touch via the hello@digitallegacyassociation.org email address.
Digital Legacy Conference website
The Digital Legacy Conference website will be updated once we have confirmed the first batch of speakers and sponsors. Last year's website can be viewed at www.DigitalLegacyConference.com. This year's event Facebook page can be viewed by clicking here and our Twitter account can be found at www.Twitter.com/DigitalLegacyCo
Good luck and we look forward to seeing you in May.