The Digital Legacy Association urges all funeral directors to partner with self shooters, camera people and independent filmmakers. Every person who is bereaved over the winter months should be able to watch a live stream or a recording of their loved one's ceremony if they are not able to attend in person. Funeral streaming and recordings should only not take place when mourners or those planning their own funeral do not want either to occur.
Current governmental advice states that "a modest number of close friends and family of the deceased may attend although funerals should have no more than 30 people in attendance." (last reviewed on the 5th October 2020). Over the winter months we might see a further tightening of funeral attendance restrictions. It is paramount that mourners are given an opportunity to pay their respects and grieve for those who die using video streaming technologies or by watching a recorded video of the service when it is not possible for them to attend and they wish to do so.
After reviewing the preliminary dataset obtained in this year's Digital Death Survey, the Digital Legacy Association argue that "it is the duty of a modern funeral director to talk about funeral streaming with those they serve".
Most funeral directors do not have the necessary skill sets, the technology or the time to stream a funeral. It is therefore important that relationships are formed with local self shooters, camera people and independent filmmakers. Providing a video stream or a video of the ceremony needs be seen as a normal and compassionate service.
The Digital Legacy Association's research into funeral streaming involved reviewing the preliminary dataset from this year's digital death survey and conducting a number of informal interviews with funeral directors. A very small number of funeral directors had up-skilled staff to help deliver video streams. Around a third of funeral directors interviewed had partnered with one or more external professional to provide a streaming service. The majority of funeral directors interviewed however were not speaking with mourners about funeral streaming, providing video streaming as a service or signposting the bereaved to self shooters, camera people and independent filmmakers.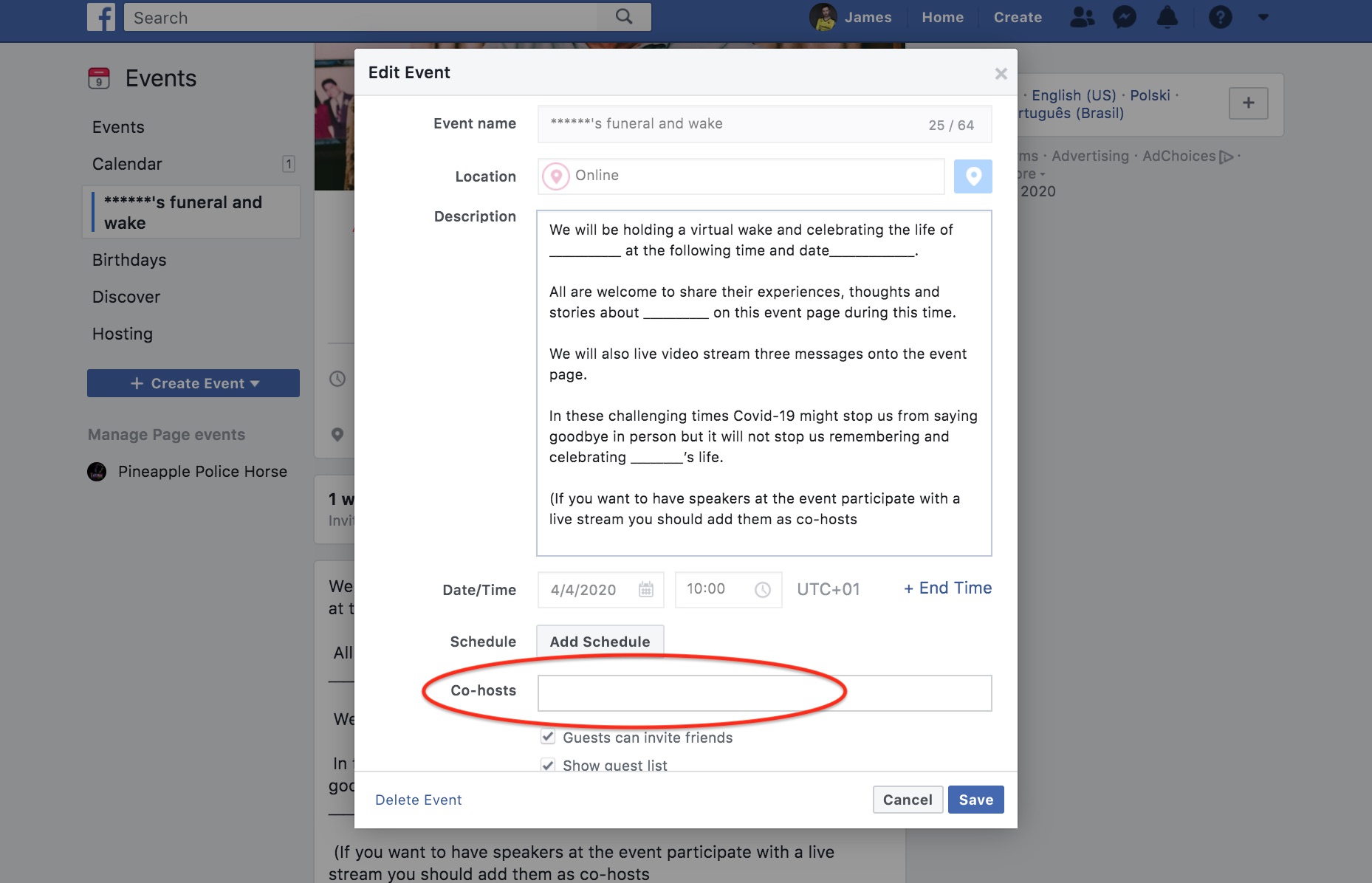 Some crematoriums and places of religious worship had installed in-house video streaming technologies prior to and during the pandemic. Funeral directors need to be aware when in-house video streaming technologies are already available and whether or not the video provided is live and whether or not video streams can be provided in a 'public' or 'private' way.
When in-house streaming is not provided, funeral directors need to provide advice and deliver support based on the person's wishes and requirements. Being able to speak about funeral streaming should be considered compulsory and part of a funeral director's role and responsibilities.
Video Streaming Best Practice Guide for Funeral Directors
Partner with at least one self-shooter, camera person or independent filmmaker in your local area.
Obtain a fixed costs for filming and/or streaming a funeral from at lear one supplier. A markup on the costs charged by externals should not be made or placed on the bereaved.
Ensure that all staff are aware of the costs associated with providing a video stream.
Ensure that all staff who arrange funerals talk about 'funeral streaming' as part of your organisation's best practice and code of conduct.
If your organisation is does not provide a funeral streaming service make sure that 'funeral streaming' is still spoken about when arranging a funeral.
Test, test, test. Make sure that whoever is providing the video stream visits the venue and checks the connectivity (WIFI / 4G signal) prior to the ceremony. When a stable WIFI is not available 4G should be used.
Be open and honest with mourners about the technology provided and it's limitations prior to the event. Streaming funerals will bring a number of challenges. These include the sound quality, where camera's position, the weather (when outside) etc.
Let friends, families and those arranging their decide whether or not they would like a funeral stream to be 'public' or 'private'. Most funerals in the UK are public events.
Learn how to arrange and stream a funeral on Facebook. Arranging a funeral on Facebook can have a much greater reach than a newspaper advert. A large number of funerals are now streamed on Facebook.
Funeral director associations and filmmaker associations
We advocate and would support joint initiatives between independent filmmaker and funeral director associations. The Digital Legacy Association are happy to provide support and advice when called upon.
Conclusion
Every funeral director should partner with at least one self shooter, camera person or independent filmmaker. When arranging a funeral, cremation or celebration of life, funeral directors must discuss video streaming and filming the ceremony. Other professionals who support the dying and the bereaved should also partner with at least one self shooter, camera person or independent filmmaker.
Insights for these recommendations were take from the ongoing Digital Death Survey and interviews with funeral directors practicing within the England and Wales. The full findings will be published in a report later this year.
If you have any suggestions as to how this best practice guide can be improved please do get in touch